It is our goal at The Coastline NC Real Estate Team to bring you the latest real estate developments happening in southeastern North Carolina and the news of Pine Forest hitting the marketplace is hot on our radar.
This new coastal community, Pine Forest of Oak Island, will feature an integrated regional healthcare campus with residential living, recreation, shopping, and dining on over 2,000 acres. The first few pieces of this beautifully planned community have already begun — Novant Health is now open and Affinity Living Group broke ground in early 2018.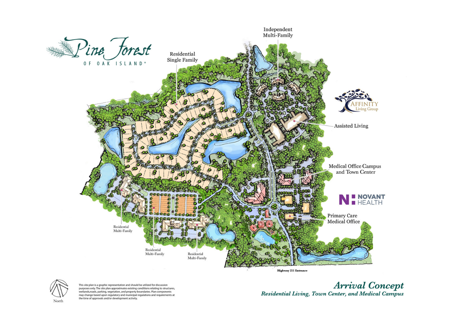 The local community of Brunswick County is one of the fastest growing counties in the state due to the many benefits of the local area and the beautiful North Carolina coastline.
Active adult retirees in Southeastern North Carolina often must transition from fully independent living to assisted living or skilling nursing facility, with very little in between to support differing levels of self-sufficiency. Pine Forest of Oak Island looks to bridge that gap with its integrated health continuum of care, providing access to personal and concierge services, and medical care as needed, while allowing for a full active lifestyle, all within a carefully preserved natural setting ideal for walking, biking, and more.
For more information on this latest real estate development to hit the market or to take a peek at this community, connect with The Coastline NC Real Estate Team - 910-632-0060 | Email Brian | Email John | LIKE US on Facebook